The food industry has existed ever since humans figured out how to barter and trade. Now, the food industry is such a huge machine, with so many options to choose from. Increasingly, new food apps are released to help consumers manage how and what they eat. These range from food delivery apps, to ones that help us monitor what we are eating. As expected, younger consumers tend to be the ones who adapt to using apps that guide their eating habits.
Ubereats, Deliveroo and Justeat are startups that have become household names. Less and less, consumers keep a collection of take-out menus stuffed inside. These apps instead allow users to order directly from the restaurant, though a virtual menu and have it delivered to their homes. However, while these apps focus on fast-food, new players are bringing healthy alternatives to the market.
Healthy Eating Is Where Its At
You can find the likes of Home Chef in the US and HomeCookedUK in Britain, which are part of a growing trend in 'meal kit" providers, many whom provide apps. Unlike traditional take-out delivery services, these meals don't come ready to eat. Furthermore, these are prepared at centralised industrial kitchens, known as 'dark kitchens' before being transported overnight to your home.
As a result, the meal needs to be cooked or reheated. Meanwhile, other apps are more diet specific e.g. for vegans or gluten-free or people who want to lose weight. Regardless, their main audience is busy people who don't have time to go to the supermarket, then home and put a healthy meal together. Instead, an app in the pocket allows users to order and track the delivery of their food, from anywhere.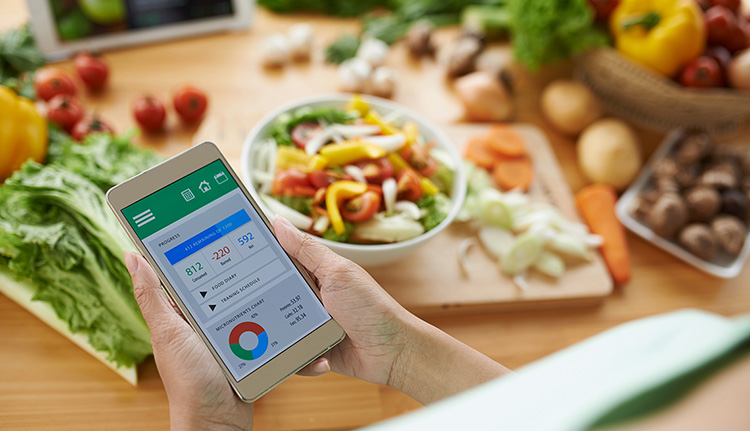 For those who do go their own food shopping, apps can help there too. These include apps that help consumers track the nutritional information of the items they are buying. While shoppers keeping calorie counts or checking the ingredient list is nothing new, these apps can do this task much faster. Therefore, people are less complacent about what's in what they eat.
As a result, brand loyalty is no longer a given in a way it once was. As a result, it's increasingly important for food producers to make healthier products. For instance, studies have shown that Gen Z is already showing a strong preference for things like organic food.
Food For The Followers
In addition, thanks to social media, trend diets and superfoods are now at the fingertips of consumers, for instance, celebrities like Gwyneth Paltrow has her own food and lifestyle brand Goop. Another example is reality star Kourtney Kardashian, with her infamous strict diet, pushing her app via her own social media handles. These celebrities talking about their diets is nothing new, it has been a staple of popular magazines for years. The difference is now that everything is online and lead to growth 'gurus' and influence culture. Furthermore, these apps are increasingly subscription-based apps, offering insight into how your idol eats. Everyone from celebrities to bodybuilders has their own signature diet for sale, on their own custom app.
However, some influencers have been criticized for giving inaccurate advice and promoting products they don't actually use, raising the question if we should trust influencers and apps to give us diet advice? The answer is, you should talk with a doctor or a real-life nutritionist before following any dieting plan.
Conclusion
Clearly, different apps affect the food industry in so many ways, however, they all giver users more control of what they are actually eating. The other side, they attract controversy. Critics say food delivery apps make us lazy and dieting apps can be inaccurate, so be interesting to see where this food app revolution leads us.
One thing is for sure, food apps will continue to shape how we eat. If you want to launch a food app, why not contact Wiredelta. We can help you develop an app, a website or more, to help you grow your business even more.