Mobile friendliness, mobile responsiveness, mobile compatible – we've heard these terms over and over again, and most of us still use them interchangeably. But are they the same thing? And more importantly, should we know the difference? The answer to these questions is: no they are not the same and yes, you should absolutely know the difference.
Mobile devices are sweeping and changing the world. And it will continue to change the world. These days, everyone has a smartphone, and according to Statista, over half of the web traffic globally comes from mobile devices – and that number will only increase further.
In fact, mobile devices have had such a huge impact, that starting 2019, Google crawlers visit only mobile versions on the websites when indexing them. So if your website isn't optimized for mobile devices, you're lagging behind the rest of the world. Not only that many of your users have probably already moved on to one of your competitors, but your Google rank is suffering every single day.
But it can be quite daunting to know where to start, so don't worry, in this article, we will explain the differences between Mobile Friendliness, Mobile Compatibility, Mobile Responsiveness, and Mobile View. We'll also give you some tips on how to capitalize on these for your own website.
Let's dive right in.
Mobile Friendliness
Mobile friendliness can mean a multitude of things depending on who you ask, but in broad terms, you can think of mobile friendliness as how well your website is designed and optimized to be showcased on a mobile device – mobile optimization.
In layman's terms, you can determine how mobile-friendly your site is by how welcoming it is to a user from a mobile device. And by mobile devive we mean everything from tablets and smartphones to smartwatches or smart even smart glasses.
So, to help you start thinking in a mobile-friendly way, it can be useful to think of it in terms of 3 distinct goals when considering how to improve your website's user experience – Presentation, Content, and Performance.
Presentation
There are numerous mobile devices that can access the web, these include mobile phones, tablets, e-readers, and smartwatches to name a few. Regardless of the mobile platform, the content you present on a web page that's viewed on a desktop or laptop will be completely different from the way the content is presented on a smaller device.
Imagine trying to access a website made for a laptop on a tiny smartwatch. If the website isn't mobile-friendly, it just won't work.
That's why the first goal for mobile friendliness is all about knowing how to present your content in a manner that makes the user experience easier. In other words, make a website that works with a variety of screen sizes.
Content
The second goal is to do with your content. You have to ensure that your content is adjusted for mobile users. Think about what a user would want to do if they view your website on a phone.
For example, let's say you are a restaurant owner. There is a high chance that users who go to the desktop site will be there to check the menu or browse other things your restaurant has to offer. However, mobile users may be more likely to look for a phone number so they can call to make a reservation.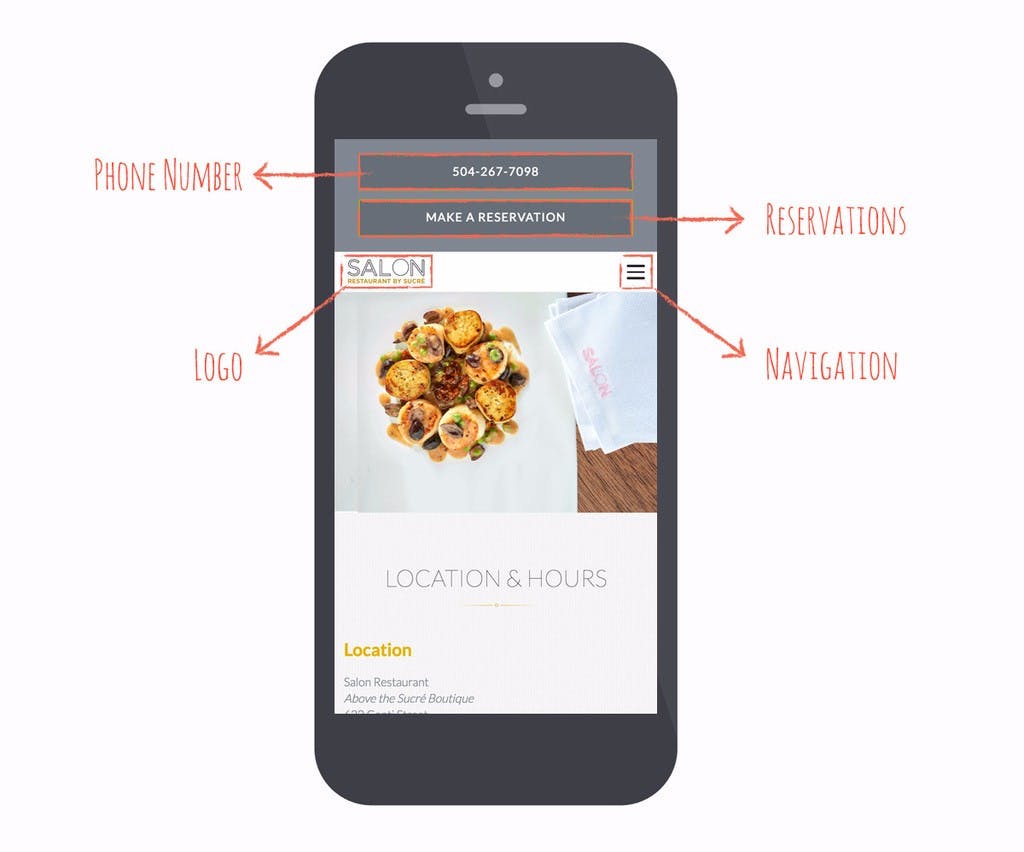 Ensure that your website is optimized to showcase the content that mobile users are most likely to be there for.
Performance
Last but not least, and the most overlooked aspect of mobile friendliness is the performance of your website on a mobile device. It doesn't matter if your content is adjusted for mobile viewers and if it's presented properly, if your website doesn't perform the way it should, your bounce rate will be high. A framework that can help with this is Google's AMP.
Make sure you are performing good mobile practices, your page load speeds are fast, and that everything is running smoothly.
Bonus: Know Your Target Audience
Google has standards, ensure you exceed them, or at the very least, meet them. Defining who your target audience is can make these goals more concrete, and therefore incredibly easier to follow a successful strategy and raise your level to the standard it needs to be.
There are various tools out there to test mobile friendliness. Luckily, you can go directly to the source and try Google's Search Console's Mobile-Friendly Test in order to get a mobile view of a website.
Mobile Compatibility
Mobile compatible and mobile responsiveness are one and the same concept. Basically, a mobile compatible or mobile responsive website is an HTML based website that does not contain Flash, and so it will be viewable on any mobile device such as a smartphone or tablet.
Mobile compatibility is similar to mobile friendliness, but there is a distinct difference: in order to achieve mobile friendliness, your website must be mobile compatible or responsive. If your website is not mobile compatible, it is not mobile-friendly. However, your website can have mobile responsiveness, whilst not being mobile-friendly. Confused much? Let's clear things up.
A mobile compatible website is one that can be viewed and used on a mobile device. The vast majority of websites in 2020 are mobile compatible (at least they should be). Meaning, in theory, you can go to that website and it will technically work. You will be able to access it, but it may not be an enjoyable experience and you may abandon said website pretty quickly.
A mobile-friendly website is one that is optimized for viewing on a mobile device. The website runs smoothly and all website features are exactly where they are supposed to be. But websites are generally made with a computer screen in mind and other large screen sizes – sometimes they aren't optimized for smaller screen sizes or other mobile devices.
In order to boost mobile responsiveness and optimization, a feature called "responsive web design" is being built into internet systems. Responsive web design involves building websites in a way that supports mobile use from the get-go which allows for a much better viewing experience, and total user experience. Engage in a mobile compatibility test to see how well your website performs.
Mobile View
To recap, first, your website needs to be mobile compatible or mobile responsive (the terms are interchangeable) in order to be able to be viewed on a mobile device. The next step is to ensure that your website is mobile-friendly so that it is optimized for a mobile user's experience.
Once these two are achieved, whenever users view your website on a mobile device, they will get the best user experience they can. It will be seamless, easy, and intuitive.
Ans if you need any assistance in getting your website mobile-friendly or compatible, don't hesitate to get in touch with us!