With almost 200,000 web hosts, web hosting is a crowded space. Getting a grip on what the best hosting for you to choose quickly becomes a complicated matter. This is why we make this comprehensive guide to choose your next web hosting.
HostGator
HostGator is a Houston-based provider of shared, reseller, virtual private server, and dedicated web hosting. After almost two decades since it's inception in 2002, HostGator is a leader in the web hosting, domain name, and email hosting arena, which has managed to build a competitive service offering that is hard to match elsewhere.
For only 3$/month, you can get a domain name, web hosting and email setup for your business. When doing so, you enjoy 24/7/365 live support, automatic weekly, data backups, 100s of helpful articles and videos, along with the following powerful features:
Free Website Builder
Free One-Click Script Installs
Unlimited Email Addresses
Unlimited Storage & Bandwidth
Unlimited Subdomains
Free $100 Credits for Google AdWords, Yahoo Ads and Bing Ads
To find more information and a full review of Hostgator hosting, see How to Start a WordPress Blog with Hostgator or if interested in using Hostgator, make sure to use their 1 cent coupon codes.
Hostpapa
Hostpapa is is a Canadian-based privately owned web hosting company that provides shared, reseller, and virtual private server (VPS) hosting. HostPapa entered the dedicated and hosted applications market in 2002, and began offering web hosting services to customers in 2005, through its first registered domain. It was officially founded in Canada by Jamie Opalchuk in 2006. In June 2012, HostPapa partnered with CloudFlare, a website performance optimization company. Also in 2012, HostPapa announced a partnership with SiteLock Website Security, to improved all hosted websites' security.
When choosing HostPapa, you automatically get access to 400+ business apps, along with HostPapa's easy‑to‑use website builder. If you don't want to use HostPapa's tailormade website builder, then feel free to install WordPress with just a single click to set up your blog, your website or perhaps even webshop using Woocommerce!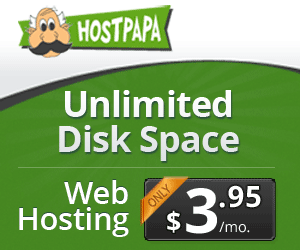 Hostinger
Hostinger
is an employee-owned web hosting provider and internet domain registrar. Established in Kaunas, Lithuania in 2004, Hostinger was originally named Hosting Media, but changed its name in 2011 to Hostinger after reaching a 1-million-user milestone. Hostinger now has over 29 million users, collectively with its subsidiaries in 178 countries.
Hostinger offers an easy-to-setup web hosting plan starting at 0.99$/month! With a user-friendly control panel, it is a breeze to setup your website with a wide variety of tools to satisfy advanced user and website developer needs. Hostinger provides 30 day money-back guarantee, making it both hassle-free and risk-free to signup for a hosting plan with Hostinger.
Besides being an obvious choice for starter websites, different projects require different technologies. With Hostinger, you can pick a plan that matches your current needs, then upgrade and scale with just a click of a button to support your website growth.
To find more information and a full review of Hostinger hosting, see How to Start a WordPress Blog with Hostinger or if interested in using Hostinger, make sure to use Hostinger Coupons.
iPage
iPage was initially founded in 1998 as a full web service provider, but the company re-launched operations as a web hosting provider in 2009. iPage hosts currently more than one million websites in its two large data centers.
With their usual catchphrase "not your average web host", iPage provides very competitive pricing on their hosting plans with free domain, free email addresses, free SSL certificate, and free website builders. Particularly the website builder is a unique selling point, with their drag and drop functionality and mobile-friendly templates, you'll love iPage's powerful website builder.


If interested in using iPage, make sure to use Webtechpreneur's iPage Coupons.
Cloudways
Cloudways is focused on building great websites, not on web hosting complexities. Their managed hosting platform gives digital agencies and ecommerce businesses flexibility and choice in how websites are hosted. Backed by 24/7/365 support gives peace of mind, especially within WordPress where Cloudways' managed hosting for WordPress and WooCommerce takes away cloud server related hassles, so you can scale your website the way you want.
If interested in using Cloudways, make sure to use Webtechpreneur's Cloudways Promo Code.
Domain.com
Domain.com was founded in 1998, providing web hosting solutions for individuals, entrepreneurs and small-to-medium-sized businesses around the world. Domain.com has grown ever since to be one of the largest web hosting and domain name providers, powering more than 1.2 million websites today.
Recently, Domain.com has made a complete revamp of their website builder, providing intuitive and easy development, so you can build your site with confidence. Couple that with plenty of great hosting plans, Domain.com provides an all-in-one solution.
Namecheap
Namecheap was founded in the year 2000 and is an ICANN-accredited domain name registrar, which provides domain name registration and web hosting at affordable rates. Namecheap is a budget hosting provider with 11 million registered users and 10 million domains.
With an extensive list of good offers, Namecheap is renowned for amazing deals that give users huge savings across their product range — from domains & SSL certificates to private email & hosting packages. Interestingly, in March 2013, Namecheap started to accept Bitcoin as a payment method, in case you prefer that as payment method over good old cash.
123-reg
123-reg is the UK's largest domain registrar providing domains for as little as £0.99, and other Internet services to small- and medium-sized businesses. From 2003 to 2017, 123-reg was part of Host Europe Group (HEG). In April 2017, American hosting company GoDaddy acquired HEG for 1.69 billion euros ($1.82 billion). 
Beyond domain names, 123-reg complements their easy registration service with a website builder for just £1 per month, making it easy for you to not only register but also setup your website.
SiteGround
SiteGround is a web hosting company founded in 2004 in Sofia, Bulgaria. SiteGround services more than 2,000,000 domains worldwide, and provides shared hosting, cloud hosting and enterprise solutions as well as email hosting and domain registration. In January 2015, Joomla offered free hosted website solution on Joomla.com in partnership with SiteGround.
Besides providing excellent hosting for Joomla, SiteGround has invested heavily in integrating their services with WordPress, allowing users to setup a WordPress website along with Woocommerce in just a few clicks. Finally, SiteGround makes it a breeze to transfer websites to their services, or build from scratch with their own proprietary website builder.
To find more information and a full review of SiteGround hosting, see Webtechpreneur's SiteGround Shared Hosting Review and How to Start a WordPress Blog with SiteGround.
Bluehost
Bluehost is one of the 20 largest web hosts in the world, collectively hosting well over 2 million domains. Bluehost offers services including shared hosting, WordPress hosting, VPS hosting, dedicated hosting and WooCommerce hosting. Their servers are powered by PHP 7, HTTP/2, and NGINX+ caching.
With Bluehost, users are able to supercharge their WordPress hosting by using WP Pro on their sites, providing with detailed website analytics, marketing tools, security, and data backups all in one place. And if that's not enough, users can use Blue Flash, which let's you build a WordPress better website together with Bluehost's experts.
To find more information and a full review of Bluehost hosting, see Webtechpreneur's Bluehost WordPress Review and How to Start a WordPress Blog with Bluehost.
If you are more curious about domains rather than hosting, feel free to head over to the sister-article The Ultimate Guide to Domain Registrars and The Ultimate Guide to Website Builders.