By the end of 2020, experts predict that there will be over 20 billion IoT devices in the world, from smart speakers to smart wearables and everything in between – we mean everything. Entire cities are incorporating IoT technology and this is just the beginning. So, as the world embraces IoT technology, the need for easy, accessible, and affordable content management systems is ever increasing.
Luckily, there are already various types of content management systems for websites and other digital platforms – Traditional CMS, Headless CMS, and Hybrid CMS. But, for companies looking for a business growth plan for the future where increasing customer satisfaction is a priority, adopting and adapting to these technologies is a must. And in this situation, only one content management system from the list above stands out – the Hybrid CMS.
In this article, we will discuss the Top 10 Most Popular Hybrid CMS's of 2020 and what makes them so special. But first, let's do a quick recap, starting with what a CMS actually is.
What is a CMS
A content management system, or CMS, is a software or program that helps users manage, create, and modify content on their digital platforms without coding. Most popular content management systems are also open source, which means that they are free for the most part, and they are maintained by a community of contributors.
However, choosing the right CMS is a difficult choice. Especially since there are currently three different types of content management systems – the Traditional, the Headless, and the Hybrid CMS – each with their own pros and cons.
What is a Traditional CMS
A Traditional Content Management System is any CMS for website building that meets three main criteria. The tool must have an admin panel, it must come with pre-built functionality – widgets, and plugins – and provide pre-built front-end capabilities – themes, templates, etc.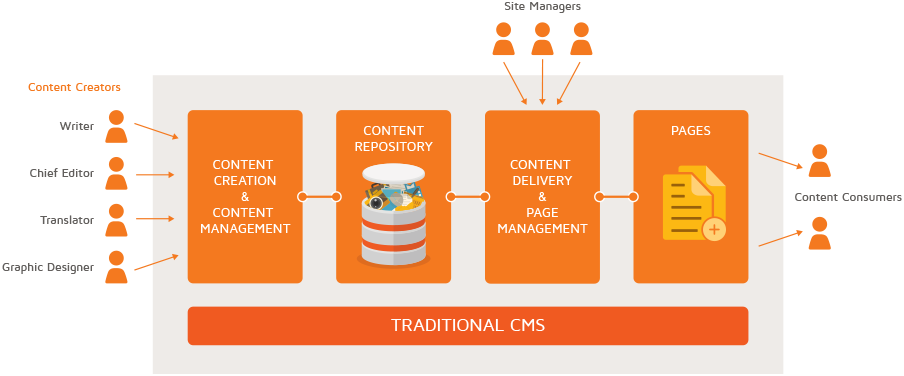 As it allows people to build their own website without technical knowledge, the Traditional CMS became a go-to solution for many. The best known Traditional CMS today, is WordPress, supporting almost 40% of the world's websites.
While this seems like an all-pro list, they are also the Traditional CMS's biggest con's. Simply put, its over-simplification creates limitations. As a result, the market saw a need for a CMS with increased flexibility and freedom. This is where the Headless CMS comes in.
What is a Headless CMS
A Headless Content Management System, unlike the Traditional CMS, gives developers and technical users more "front-end freedom". As the name implies, Headless CMS's removed the "head" or the front-end part – templates and themes – so developers have the freedom of choice over any preset rules. Headless CMS's are also API and data-driven system, which gives developers the customisability to design any application they want and deliver content on any device of their choosing. 

As we discussed in the best Headless CMS of 2020 article, there are many benefits to this type of system. But, a big down-side of the Headless CMS is that it creates a dependence on developers which is costly and time-consuming. Seems like we're back to square one, right? Well, not really. There is a solution, and that is the Hybrid CMS.
What is a Hybrid CMS
A Hybrid CMS, also called a decoupled or head-optional CMS, is what separates content from the front-end delivery of a CMS, without totally removing the 'head' of the CMS. This enables marketers to make use of templates and authoring tools when required.

Therefore, a Hybrid CMS blends the headless component with the traditional experience, so marketers get the best of both worlds in a single software.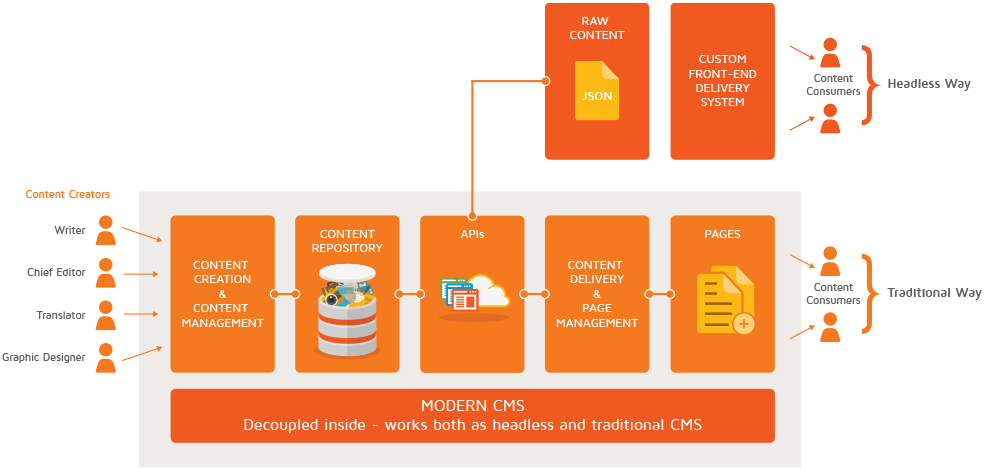 Simply put, it is a combination of the API data-driven features of the Headless Content Management System, with the user-friendly interface and experience that is offered by the Traditional Content Management System.
Headless vs hybrid CMS
Both Hybrid and Headless CMS solutions allow for the flexibility needed for the ever-changing technological landscape we currently face. However, a Hybrid CMS is the apparent ideal solution for the modern age. Unlike many pure Headless content management systems, a Hybrid CMS is architected from the ground up, so it functions as a complete CMS. It is the DNA of the product. 
The popular Hybrid CMS's also facilitates the creating of omnichannel experiences with more ease. It can enable content creation, distribution, and repurposing within a user-friendly environment which includes WYSIWYG editing, previews, and author collaboration. 
As with the increase of IoT technology, customers are consuming content on various different platforms. Reaching and attracting those customers requires ensuring the content is spread across all these different platforms, whilst also guaranteeing that the content can be displayed on every device and optimized for every viewing medium. 
This is where a Hybrid CMS comes in handy. Instead of having to create your content numerous amounts of times – once for each channel, platform, and device – a Hybrid CMS enables you to create your content once, and deliver it perfectly for whatever viewing environment the consumer may be in. 
Why should you choose a Hybrid CMS
A Hybrid CMS is made for marketers. They have a user-friendly interface enabling the creation and publishing of content with no-nonsense WYSIWYG editors. It empowers editors and developers to provide better experiences for end-users.
Less Development and Maintenance
Popular Hybrid CMS platforms provide marketers access to front-end templates so they can quickly set up and build immediately. This saves time and costs on setup and maintenance since marketers do not have to acquire front-end developer services, which is the case with a Headless CMS.
Ease of Integration
Hybrid CMS's are incredibly easy to integrate with third-party platforms that offer complementary services. The ready-made front-end templates allow for a smoother experience when integrating different tools and resources such as Slack, Salesforce, Google Analytics, and Microsoft Flow. These tools can easily be plugged in by the marketers themselves. 
Cloud-Based
Hybrid CMS's are often cloud-based. This allows easier collaboration between different team members who can all make changes and edit content in real-time without slowing or hindering others.
Phase-Driven Development
The omnichannel delivery capabilities in a Hybrid CMS enables the implementation of different content distribution methods as a phased approach. For example, you can start with a website, then roll out to different channels in an efficient and straightforward manner. Everything you do will be a foundation for more development down the line. 
Top 10 Most Popular Hybrid CMS's of 2020
Now we know why and how the Hybrid CMS is superior to its counterparts, let's look at the best and most popular Hybrid CMS's of 2020. To achieve an objective and fair analysis we collected our data from reviews on G2, and this data will also be used to inform you about each CMS on this list. This list is in no particular order.
Agility CMS
Agility CMS provides you the fastest way to build and launch a website on a foundation that will last you forever. It seamlessly integrates with modern, incredibly fast website frameworks and enables high-performance websites. 
Benefits
According to the reviews, Agility CMS allows teams to streamline communication and solve problems quickly. Agility also empowers marketing teams by providing them with access to standardized documents so that they can build whatever web asset they need, faster.
Bloomreach
Bloomreach's software enables personalized experiences depending on the company's needs. Their services are global, combining AI-driven product search with a powerful Headless CMS that's targeted towards marketers, but also eCommerce professionals.
Benefits
The majority of people reviewing Bloomreach on G2 are using the CMS to improve their website search capabilities. Additionally, they emphasize the fact that Bloomreach has an incredibly quick setup –  taking less than thirty minutes to be implemented to your website – and getting assistance from an account manager can be done in minutes.
Core dna
Core dna is an all-in-one digital SaaS platform, enabling marketers and developers to create content, marketing, eCommerce, intranet, and community solutions. Core dna helps manage these different fields all from one log-in.
Benefits
An overwhelmingly large number of reviewers noted two main things about Core dna; its customer success team and that the CMS allows marketing teams to reduce dependence on developers for website updates. Additionally, Core dna has a solid CS team which helps the CMS roll changes faster which is another positive aspect for potential marketers.
Crafter CMS
Crafter CMS is an open-source CMS that allows marketers to build customizable types of digital experience apps and websites. Since the CMS is backed by Git, it enables developers and marketers to work collaboratively. 
Benefits
According to G2, Crafter is best utilized as a multi-purpose CMS for blogs, content sections, and augmenting products with headless delivery. That is why it makes a great choice for anyone looking for a robust secondary Headless CMS to be incorporated into your existing solution. 
dotCMS
dotCMS, like Crafter, is an open-source CMS. It is built on Java and allows marketers to make their content authoring more efficient which enables both marketers and developers with the ability to create and reuse content in order to build a connected, engaging and unforgettable experience.
Benefits
Reviewers for dotCMS raved about dotCMS's ability to offer strong intranet capabilities that assist marketing teams to remain connected with the rest of their teams, which in turn strengthens team productivity. 
Sitecore
Sitecore describes themselves as more than just a CMS, instead preferring to say that they are an 'experience platform' which combines customer data, analytics, and marketing automation capabilities in order to nurture customers in real-time.
Benefits
Sitecore is reviewed as a platform where business users and content authors can readily update and manage content on-site without requiring assistance from developers. Also, marketers talk highly of the personalization engine that Sitecore uses, which helps with tapping into new audiences.
Zesty.io
Zesty is known to provide marketers with everything they need to create, deploy, maintain, and optimize enterprise web properties. CMS helps businesses optimize their process and capture user data.
Benefits
Reviewers emphasized two main benefits; ease of implementation and how simple it is to create beautiful, functional websites in a short time. Additionally, Zesty is praised for how it enables marketers to manage multiple properties from one single web portal.
Evoq Content
Evoq provides powerful features that include page management, workflow, granular permissions, localization, caching, and search. Like most other popular Hybrid CMS's they have an open API structure, allowing marketers to extend their functionality. 
Benefits
Most reviewers consider Evoq to be useful in helping to manage their content in a single location, whilst also providing granular access to individual website managers so that they can complete their own updates without having to alter the main website. However, it should be noted that marketers tend to find UI confusing. 
Kentico Kontent
Kentico is a Headless CMS advertised as a Content-as-a-Service platform which empowers marketers to publish better content at a faster rate. They help companies whose content is spread across various platforms and systems and keeps things consistent for them. 
Benefits
According to G2, Kontent is seen as a robust tool that helps to create and update content as well as making comments and revisions. The tool itself lends well to the creation of content, even for marketers who hire freelance writers to write content for them. 
Magnolia CMS
Magnolia is a Java-based, open-source, and enterprise-focused CMS that allows companies to scale by offering them flexible integrations and more favorable ease of use. 
Benefits
In this case, most reviewers noted Magnolia's ability to help marketers by providing them with centralized platforms to deliver digital experiences to visitors and clients. Magnolia enables marketers to create apps and launch new websites without the need to create new content. Instead, it reuses existing assets to create omnichannel experiences.
Conclusion
At the end of the day, the choice of CMS depends on your needs. However, whether you need a CMS for websites or a CMS for omnichannel purposes, it would be wise to choose a Hybrid CMS as it gives you the option of both, and will be most suited for the progression of technology in the future. 
We've listed the most popular Hybrid CMS's of 2020, and each Hybrid CMS has its own pros and cons, but choosing one that is most suitable for your requirements is paramount. However, if you need in-depth expertise on any of the mentioned CMS's then do not hesitate to contact us, we would be happy to help!